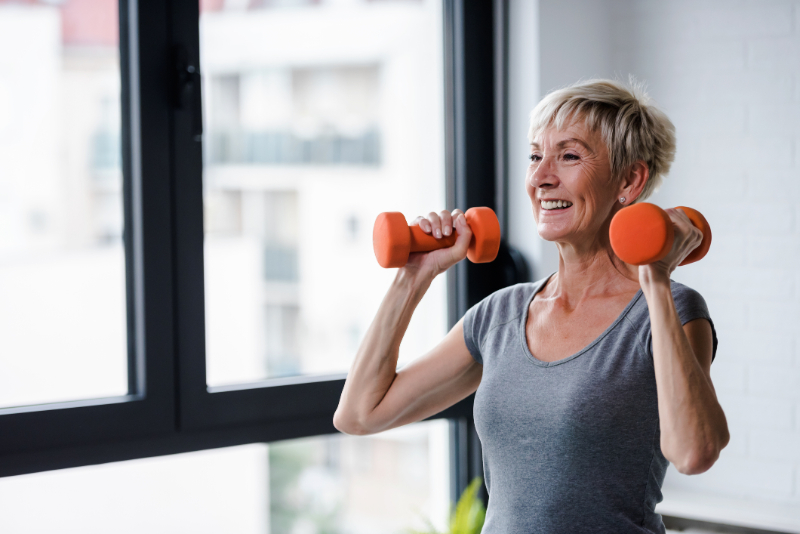 Located in the master-planned community of Rancho Bernardo in San Diego, California, Oaks North is a 55+ residential community that caters to adults looking for a vibrant and active lifestyle. When you move to an Oaks North single-family home, you'll get the best of the community's outstanding amenities.
These are the incredible Oaks North amenities that you can take advantage of:
Indoor activities and outdoor workouts in Oaks North, CA
Serving as the hub for social and recreational activities, the Oaks North Community Center has something for every 55+ homebuyer. From indoor activities to outdoor workouts, there are plenty of ways to stay active here.
The community center's own exercise room is equipped with treadmills, ellipticals, stationary bikes, and dumbbells. The room's climate-controlled environment ensures that you are comfortable during your workout. While the exercise room at the Oaks North Community Center is exclusive to members, personal trainers are permitted provided that they are registered prior to your session.
For bookworms and avid readers, the library of the Oaks North Community Center has more than 2,000 titles to choose from. Fiction, biographies, health, and travel are just some of the many available categories. The library also has puzzles and games.
Other amenities in the Oaks North Community Center include:
An arts and crafts studio
A woodworking shop
A billiards room
Tennis courts
Lawn bowling
Playing golf in Oaks North, CA
For an unforgettable golfing experience, the Oaks North Golf Course is home to a beautifully-designed 27-hole layout. The course is shorter (it ranges from 3,417 yards to 3,608 yards), but it's just as challenging. Throughout your game, you'll encounter wide fairways, tricky greens, and strategically placed bunkers. The Oaks North Golf Course also has a driving range, chipping area, and different programs for golfers of all skill levels.
Walking and biking trails in Oaks North, CA
Oaks North has several walking and biking trails that wind through the community. These trails are surrounded by lush greenery, well-maintained landscaping, and plenty of natural scenery. Whether you're on a leisurely stroll or doing a light run, you can seize the many benefits that these walking trails have to offer.
You can also explore the hiking trails outside the Oaks North community. San Diego County is home to a variety of hiking paths, from easy treks to more challenging terrains. The Oaks North hiking group meets at the Community Center's parking lot every Wednesday morning before heading out to the chosen trail of the day.
Access to shops, restaurants, and medical facilities close to Oaks North, CA
One of the perks of living in Oaks North is the easy access to the shops, restaurants, and medical facilities in Rancho Bernardo and in San Diego. The Oaks North Plaza Shopping Center is the closest shopping area, home to boutique stores, specialty shops, and services. And if you cross the Escondido Freeway, you'll reach Lake Hodges, a reservoir that's perfect for fishing, boating, and picnicking.
Discover the 55+ Oaks North community and all the features that it has to offer today! Let senior real estate specialist Bryan Devore and the Devore Realty Group be your guide to the Oaks North community and its homes for sale. Call 760.908.3838 or send an emailtoday.
Please visit our Senior Services page for information about our resources for Seniors.